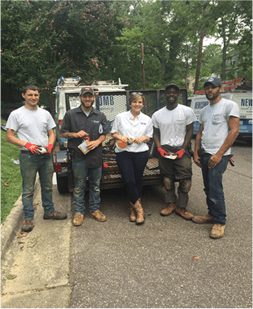 Newcomb and Company has dramatically improved their safety program over the past two years, earning them a 2020 EMCOR Group Safety Excellence Award. Recent changes in management, organizational structure and safety staffing has led to significant improvement in Newcomb's safety performance.
With these changes and others the organization has established a renewed company-wide safety culture focused on zero injuries.
Newcomb's reinvigorated commitment to safety starts at the top of their organization with their President and CEO. The President attends every new hire onboarding, discussing the importance of safety at Newcomb and setting a standard for the organization.
He also conducts frequent, unplanned site visits that focus on safety practices, not simply production/operations. The visits play a critical role in motivating field personnel all while clearly demonstrating the President's support of the safety department and their efforts.
Beyond management support, Newcomb has tied employee bonuses to pre-task plan completion ratios. Pre-task plans are strongly recommended by OSHA, and this practice connects incentives to leading indicators that help identify and prevent injuries, instead of lagging indicators like incident reporting.
Building this level of employee buy-in has helped develop accountability throughout the company.
The improvements Newcomb has made to their safety program are already apparent in their 2020 reporting raters. These are sustainable changes, which can be built-upon in the years to come, and worthy of acclaim.
Newcomb Injury and Incidence Frequency Data:
Average number of employees, 2020: 327
Average number of employees, 2019: 322
Percent of self-performed hours worked, 2020: 96.05%
Percent of self-performed hours worked, 2019: 94.81%
Total employee hours worked, 2020: 677,707
Total employee hours worked, 2019: 694,619
Recordable incidence rate, 2020: 2.07
Recordable incidence rate, 2019: 4.32
DART rate, 2020: 1.77