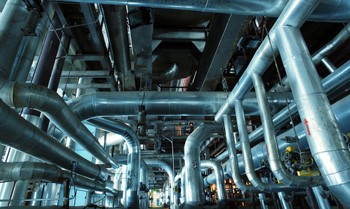 Newcomb and Company provides industrial solutions in a wide variety of facilities, including utility plants, hospitals, universities, office buildings, and laboratories. All our piping systems meet ANSI and ASME industry requirements, and our capabilities include:
Installation of chillers, boilers, pumps, and all accessory equipment
Large chilled-water, hot-water, and steam piping installations
Piping and equipment for central utility plants
Specialty piping and welding
Underground utility work
Count On Fully-Certified Welding
To satisfy stringent industrial facility requirements, our pipe welders are certified in:
Stick welding (also known as shielded metal arc welding or SMAW)
Metal inert gas (MIG) welding
X-Ray testing for Stick and MIG welding
American Society of Mechanical Engineers B31.1 power piping
Enjoy the Flexibility of Prefabrication
We can perform work for your project on the job, as well as in our state-of-the-art prefabrication shop. Our prefabrication services help maximize efficiency and quality, while providing the flexibility you need to meet aggressive deadlines.
To learn more about our industrial services, contact us today.